Previous
Talking With Raven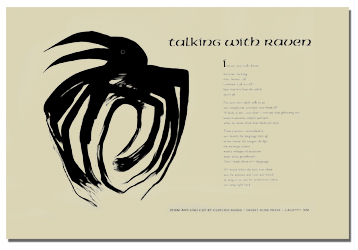 Talking With Raven
Broadside poem and linoleum cut by Clifford Burke

A gang of ravens found a bag of spoiled horse feed thrown on the compost pile, and for a couple of weeks they hung out on the corral rails, feasting. Hidden in the barn I could look right into their sharp eyes, hear their wispers to one another. This poem celebrates that intricate language of the raven, reluctant guardian and critic of our life in the high country.

Handset in Italian Old Style and American Uncial types, and printed on handmade Chapin from the Twinrocker mill.

Broadside, 14 x 18 1/2 inches
Imitate, and really listen.

Intricate clacking
that throaty call
a whistle (call it a riff)
four four five four the sublte
intervals

For now they rarely talk to us
our complacent attempts piss them off
Wheels at meâ€"too close! â€"eyes me that glittering eye,
lands in another juniper and says
what we most often hear them say now.

Then practiceâ€"woodshed it
and slowly the language rises up
in the throat the tongue the lips
the message comes
with a whisper of intuition
mind loose, peripheralâ€"
Don't think about it!â€"language

We heard when the land was silent
and the animals and trees and winds
all sang to us, and we understood them
and sang right back.
Price: $18.00