Salmon-Babies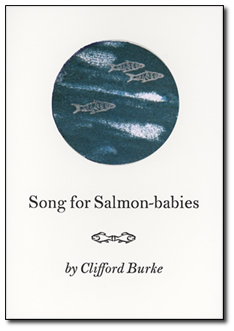 Salmon-Babies
This short poem by Clifford Burke celebrates a life cycle that connects the chain of being we are all an intimate part of. In the intense instincts of the Pacific salmon lies deeply imbedded the metaphor of our lives; we are the returning fish of consciousness; we are the flesh of that great flashing body. In this card edition, the poem is printed (the typeface is Caslon) on pale blue Japanese paper and sewn into a cover decorated with a monoprint of wild water and silvery salmon.

Folded card, 5 x 7 inches, with envelope
We never see them going out to sea,

nor swim the tiny rivulets, wetlandsâ€"
irrigation ditches! field drains!

doing what our own kids do,
explore, eat constantly, & gorw.

If we could pat their scaley butts
as they hit the mighty Skagit
for the first time,

how gently would we take them
to our hands & mouths & bodies
on their one trip home.

Price: $6.00