But Ask Now The Beasts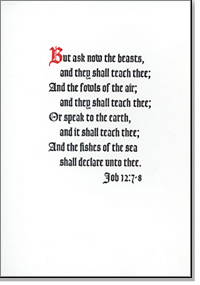 But Ask Now The Beasts
The text of this piece is from the Book of Job, and calls us to reconnect with the true sources of our knowledge in the natural world. The type used is a blackletter face inspired by the letterform used in the Gutenburg Bible. It was designed by Frederic Goudy, and is one of the finest versions of this famous typeface to be produced in the United States. The setting incorporates an initial letter in red, to reflect the rubrics of early printing.

Folded card, 4 3/4 x 6 1/2 inches, with envelope.
But ask now the beasts,
and they shall teach thee;
And the fowls of the air,
and they shall teach thee;
Or speak to the earth,
and it shall teach thee;
And the fishes of the sea
shall declare unto thee.
Price: $4.00