The Dream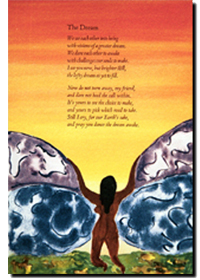 The Dream
This poem emerged from a conversation with a friend about how we influence and inspire each other's lives, and how passionately we want personal dreams, and dreams for our planet to come true. This card is a prayer that our highest visions be brought to life. The original watercolor is reproduced here by offset lithography, and the poem is printed (the typeface is Arrighi) by letterpress over the image. The card comes with a handmade envelope from the Twinrocker mill.

Folded card, 5 1/4 x 7 3/4 inches with envelope.
We see each other into being
with visions of a greater dream.
We dare each other to awake
with challenges our souls to make.
I see you now, but brighter still,
the lofty dream as yet to fill.

Now do not turn away, my friend,
and dare not heed the call within.
It's yours to see the choice to make,
and yours to pick which road to take.
Still I cry, for our Earth's sake,
and pray you dance the dream awake.
Price: $6.00